Bookkeeping Services
A bookkeeping team you can trust to help you run a successful business.

A bookkeeping service that makes business life a whole lot easier
Bookkeeping to make make filing VAT returns, corporation tax bills and self assessment tax returns simple and effortless.
Bookkeeping is often considered to be a necessary evil – and it is. However, this fosters an attitude towards bookkeeping that it is just an administrative task rather than a platform for strong finances.
Because of this attitude, working with traditional bookkeepers means most businesses get a generic delivery of their bookkeeping. Most accountants will tell you that you shouldn't be wasting time on bookkeeping and that you focus your efforts on growing your business. They're right, but for us bookkeeping isn't just about clearing paperwork.
Speak with one of our expert accountants today
Or alternatively call 0116 255 2422
Bookkeeping from tech savvy accountants
We use user-friendly accounting software such as Xero to encourage collaboration with our clients. Working in this way helps business owners who might not be so savvy when it comes to numbers to quickly grasp the critical figures they need to run a successful business. Furthermore, whereas other software can be far more expensive, bookkeeping on Xero is progressive, cost-effective and will future-proof your business in the short-term.
Bookkeeping with our team means accurate data is delivered to a year end standard, in-year, so you have the ability to react, plan and prepare for developments in your business. Working in partnership with MNE means:
immediate access to multiple accounting skill sets
data and information moves quickly
accurate information ready for management or end of year accounts
forecasting to plan and control cash flow
improved bank relationships
access to the best technology and industry practices
understand the cash position of your business in real-time
a streamlined, efficient and cost-effective service
Fun, automated and accurate data entry with AutoEntry
We use software tools such as AutoEntry to quickly and efficiently record information on expenses, receipts and invoices. By simply taking a quick picture of an expense on your mobile, this automatically feeds into your accounting system to make running a business and keeping on top of admin a whole lot easier.
The foundation to evaluate the financial health of your business
Slick bookkeeping processes in place can help your business to run a series of mathematical comparisons to find out the solvency, profitability, efficiency and liquidity of your business. This helps to predict signs of improvement and more importantly, areas of weakness and where things could be going wrong.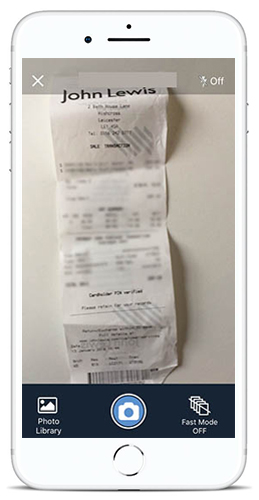 Put your business in an excellent position for investment or borrowing
Failure to keep on top of bookkeeping can result in banks having little confidence to give your business the finance needed to grow. If you can tell banks or potential investors to the penny the financial position of your business, this puts you in a strong position for further support. We'll review your accounts, address any paperwork and make sure your business can confidently apply for finance.
Best bookkeeping practises
It's essential to stay on top of the finances of your business – if you're not making money and not keeping on top of cash flow, a business doesn't exist. Products, services and organisations can change fast – their accounting systems need to flex with them. We'll help to organise your bookkeeping to make filing VAT returns, corporation tax bills or self assessment tax returns simple and effortless.
For accurate bookkeeping services get in touch today
Whether you feel like your current bookkeeping practises are holding you back, you need assistance choosing the right accounting system or you're just looking for some advice, get in touch one of our expert accountants today or call 0116 255 2422.
The latest articles from our accountants