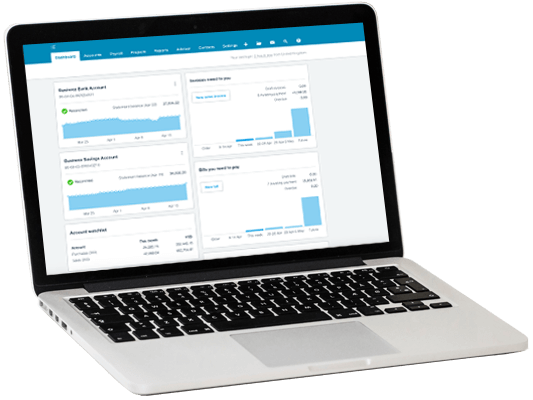 Software Accountants: make running your business a lot easier
We're certified cloud accountants, using industry-leading software to help businesses keep their finances in check.
Unlike large, traditional accountancy practices, MNE was set up with the promise to work collaboratively with our clients in a smarter, faster and more efficient manner, and have since become leading software accountants.
Cloud accounting has enabled us to offer unrivalled service and for organisations to profit from this new way of working. In fact, we were the first Xero Certified firm of accountants in Leicester, so to say that cloud accounting is part of our ethos would be an understatement.
How your business can benefit from cloud accounting software
We work across a variety of cloud accounting software programs, including popular brands such as Xero, Sage, Quickbooks, Kashflow, Freeagent and many more, allowing business owners to get a more transparent overview of their financial position.
There are several benefits to adopting cloud accounting for your business:
Accounts are easily accessed in real-time online anytime, anywhere via desktop, tablet or mobile devices
World class security reduces risk. In the event of a natural disaster, fire or accident, with all data in the cloud productivity will never be affected
Multi-user access enables us to work collaboratively with companies providing advice our clients can rely on to make informed decisions
Simpler, faster and cost-effective. Traditional accounting software is expensive, difficult and upgrading the software can be time consuming
Whatever your preferred accounting software, our team will be able to help.

Still not using cloud accounting software for your business? You're missing out.
Cloud accounting isn't just a modern way of working. It can help reduce costs, drive long-term efficiencies, deliver sustainable benefits and help streamline your financial processes. From outsourced accounting and bookkeeping to payroll, we deliver it all on a single platform, the cloud.
We have made a conscious decision to offer a digital approach to accounting because we're a team of tech-savvy individuals who understand and appreciate how new technologies can be used to drive business growth. If you're afraid of changing to new finance processes, don't be. We're here to hold your hand throughout this change to the point you'll have wished you made the decision to put your accounting practices in the cloud a lot sooner.
At MNE Accounting, we're not just accountants; we're pioneers in the realm of cloud accounting. We've witnessed firsthand the transformative power of cloud-based solutions and are passionate about bringing these benefits to businesses like yours.
Whether you're just starting out or looking to elevate your current financial processes, our expertise is tailored to meet your unique needs. Don't let the future of accounting pass you by. Reach out to MNE Accounting today and let us guide you towards a brighter, more efficient financial future. Contact us now and discover the true potential of cloud accounting for your business.
Drop us a line
Whether you're looking to implement cloud accounting software for the first time
or wanting to switch to new accounting software, we'll help get you moving.
Our accountants share their thoughts